Internal (E2A)
Residential
(Landing Station recall buttons are provided on this model and dedicated emitter/receiver car  entry light beam protection)
Automatic Car Motion Control
(As per Australian Standard 1735 Part 17)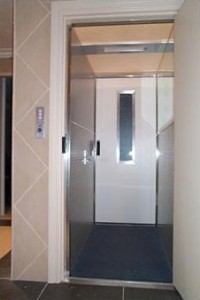 The RGH "Elite" internal waterlifts, feature MDF paintable finish landing doors with one centre mounted vision panel in each door.   The lift car is lined with easy clean white upper and grey lower laminate walls and full fitted floor carpet provides a non slip floor surface.
The automatic car control system is an easy to use one pulse push button function.  Car entrances are fitted with the reliable dual emitter  -  receiver light beam detectors for extra protection against the moving surface.  The liftcar is provided with ultra bright LED timer switched lights, car send/recall system and car control lock as standard. A car mounted telephone is provided.
This model has been design to suit most individuals' needs and to be incorporated into any new home decor.
For more photos of the electronically controlled internal waterlifts (Click here)
To see Optional Extras for this model waterlift (Click Here)